Getting listed in search engines has evolved into a science. The gurus recommend all sorts of tricks and gimmicks to optimize your website (SEO). But some of these tricks can work against you.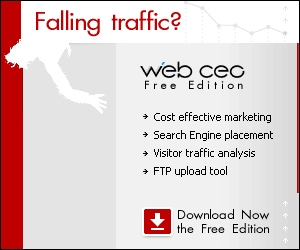 Search engines are an important part of your Internet marketing strategy, however you can't rely on search engines alone to drive traffic to your site. In fact, one of the ways search engines rank sites are how well they market using other methods. So search engines should be one of several marketing tactics you use to help people find your site.
Here are some tips to get you ranked in the search engines.
Step One: Make the Site Ready for Search Engine Spiders
Meta Tags
The first step to search engine ranking is use of your meta tags. Meta tags are information about your site that is hidden behind the scenes (viewable in the HTML view of your site) that lets the engines know what your site is about. At the very least you should have meta tags for the title, description and keywords of all your pages. These tags are placed in the <head></head> section in the code of your site:
Sample Header Code
<meta http-equiv="Description" content="Alchemy Copywriting offers results oriented, persuasive copy for internet, non-profit organizations and small business.">
<meta http-equiv="keywords" content="copywriting, copywriter, direct sales, fundraising, sales copy, sales letters, advertising, promotion">
<title>Alchemy Copy – Internet, Non-Profit and Small Business Copywriting</title>
When using the meta tags, you want to include your site's name as well as keywords. But don't over do it. And be honest. Include only the keywords and descriptions that are relevant to the page. For example, I wouldn't include "work at home job" on a page that is about "home business".
Text Copy on the Page
Include a heading to lead into the information on the page. Ideally it needs to include a keyword and be placed in heading tags (i.e. <H1></H1>)
Your text copy on the page should also include keywords and variations of keywords. Search engines don't like pages that are stuffed to the brim with keywords. It likes real pages that offer real content. So your page should provide meaning full content that use variations of keywords. For example, if you were writing about "customer service" and using it as one of your keywords, you might substitute "customer relations" in some places.
Step Two: Submitting to Search Engines
Search Engine Submission
Whether or not you submit your site to search engines, they'll eventually find you if you provide frequent relevant content and use your keywords. But you might as well help them out by letting them know you exist.
Below are some top search engines and directories at which you can register your website. Once you are at the home page, click on "Add URL" or "Add Your Site" which can frequently be found at the bottom of the site's homepage. Be sure to have your name, site URL and keywords developed before you apply to add your site to the search engines and directories. You should probably submit your site individually at the top search engines. 
Google (many directories and engines pull from Google including Netscape and AOL)
DMOZ Open Directory (AOL, Google, Netscape, Yahoo and others use Open Directory)
MSN (many directories and engines pull from MSN including HotBot and Live Search)
Sitemaps
Sitemaps are XML files that list your site's pages that are ready to be crawled by search engines. If you use a content management platform such as WordPress, you can add plug-ins to create your sitemap and ping the search engines when they're ready to be crawled.
If you're not using a program that offers sitemap functions, here's a free online sitemap generator from XML Sitemaps to create your sitemap file. It has some instructions on what to do with it when its done as well.
If you're creating your own sitemap, you can submit the pages directly:
Google http://www.google.com/webmasters/tools/ping?sitemap=
Yahoo http://search.yahooapis.com/SiteExplorerService/V1/updateNotification?appid=SitemapWriter&url=  and http://search.yahooapis.com/SiteExplorerService/V1/ping?sitemap=
Ask.com http://submissions.ask.com/ping?sitemap=
Bing http://www.bing.com/webmaster/ping.aspx?siteMap=
Step Three: Getting Ranked
Meta tags and sitemaps will get your site crawled, but not necessarily ranked on the first page of search engines. For each of your keywords your site is competing with thousands if not millions of other pages. So the search engines use other criteria to determine who gets the top spots. Below are the criteria and how to improve your chances of a good ranking.
Content – Your site content should fit the keywords provided, but also search engines like sites that have new content on a regular basis. That is why you find so many results from blogs and new/info sites that have new information posted several times a week or day. The important thing to remember is that quality of the content not the number of times a keyword is used is important.
Backlinks – Search engines also judge the quality of your site by how many other sites deem your information worthy of a link to your site. There are several ways to create backlinks to your site. The easiest ways include writing articles and submitting them to article directories, posting comments on other people's sites/blogs, and negotiating link exchanges with other sites.
Search Engine Optimization Tools
A great tool to help with search engine optimization including evaluating your site for ranking as well as ways to improve SEO, check out WebCeo.