Work From Home Black Friday Discounts, Deals and Sales
We usually think of Black Friday as the day to shop for holiday gifts; however Black Friday and Cyber Monday are also great times to get serious savings on things you need to successfully work from home.
Get Paid to Shop and Save BIG On Your Holiday Shopping
Before you do your holiday shopping, be sure to sign up to get discounts and rebates through  Ebates and Swagbucks! It's free, and you can not only get great discounts and coupons, but you'll earn rebates for cash or gift cards from your favorite retailers, including Amazon and Wal-Mart. Plus…they're offering extra cash, rebates and savings for shopping this holiday season!
Maximize your savings and rebates...
Add the Ebates and Swagbucks apps to your browser. Then shop online as you normally would, and if you land on a site with a discount or rebate, the app will open and ask you if you want to save!
Add the Ebates and Swagbucks app to your phone and save while you're out and about shopping as well.
Check out Ebates and Swagbucks sites for special offers at certain stores before you shop.
Tell your friends how they can save too. Both Ebates and Swagbucks pay you for referrals.
Sign up for free here: Ebates and Swagbucks
Work At Home Black Friday Deals 
Here are a few great deals you won't want to miss! Please note:
Some of these sales start Friday, while others you can take advantage of earlier.
Some require you to use a promo code to get the discount. Don't forget to add it at check out to get your savings.
Save 75% on How to Get a Work-At-Home Job Complete Course
Save 75% from now until Monday, November 26 on the course that helps you learn how to find and get hired to a work-at-home job! Enroll for only $9.00 using promo code: BFWAHJOB
In this course you'll get:
Hundreds of places to search for legitimate work-at-home jobs.
The truth about telecommuting and what companies utilize telecommuters so you can zero in on the right companies.
The most common work-at-home jobs found online right now. Several require little to no experience.
How to identify your skills, experiences, interests and even hobbies that can be used in a work-at-home job. Did you know some people get paid to watch television?
How to prepare for a work-at-home job search to substantially increase your chances of getting hired.
How to avoid costly mistakes when searching for a work-at-home job.
How to protect yourself and avoid scams.
And more!
Enroll for only $9.00 using promo code: BFWAHJOB Click here to enroll now! (note that link should include the promo cost, but if not, use the promo code)
Save Up to 67% Searching for Work-At-Home Jobs at FlexJobs
From now until November 28, FlexJobs is offering a special holiday discount of up to 67% off a FlexJobs membership.
$25 for a year — 50% off!
$15 for 3 months — 50% off!
$5 for a month — 67% off!
If you're serious about getting a work-at-home job, FlexJobs is the place to search 100o's of jobs, plus get info about the companies, and tips to improve your resume.
Don't wait, sign up for FlexJobs here and save big using Promo Code: FRIDAY
Save on Making Sense of Affiliate Marketing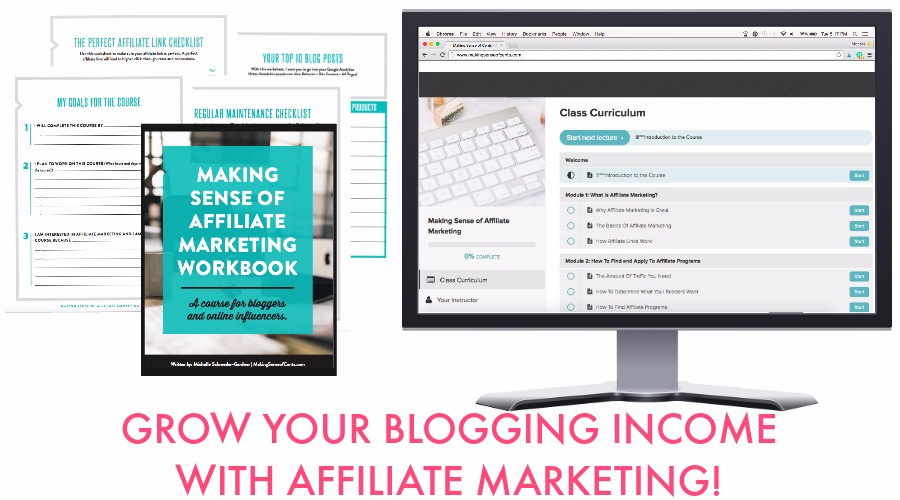 Starting Friday, November 23, 2018 to Monday, November 26, 2018 (it will end at 11:59 p.m. PT), you can save $28 on the course using code BLACKFRIDAY2018CC.
I love affiliate marketing and I'm always look for new tips and strategies to boost my affiliate income. I really liked Michelle's straight-forward, easy to follow approach to affiliate marketing. If you're a beginner, you'll get a head start. If you've already been blogging and doing affiliate marketing, you'll get some great tips and strategies.
Save on Making Sense of Affiliate Marketing and boost your affiliate earnings now. Use promo code: BLACKFRIDAY2018CC
Save 50% On Amazon FBA Bootcamp
Starting Friday, Nov. 25, Fulfillment by Amazon expert Jessica Larrew has all her great resources on sale for 50% off…some offer even bigger savings.
If you want to know how to make 6-figures selling through Amazon, don't miss her Amazon Bootcamp! It walks you through step-by-step, from beginning to big profits on how to sell using Amazon FBA! Her other resources are awesome too.
No promo code needed for any of her great resources. Just grab the discounts and start making money on Amazon.
Save 50% on Pin to Profits 
Pinterest is the number one traffic source to Work At Home Success. It happened quite by accident, but when I realized how well it was doing, I decided I needed to make sure I used Pinterest to the fullest, so I took a course! McKinzie Bean of Moms Make Cents bundled her 5 Pinterest courses into one and starting Friday, is offering it at 50% off!
Did I mention Pinterest is my number one traffic source? If you need traffic to your online business, I highly recommend you grab this course and make the most of Pinterest.
Get Pin to Profits at 50% Off Use promo code: BF2018
Save 50% on Must-Have Marketing Know-How
Starting a home business, online business, blog or any other type of business is easy. It's getting people to buy or hire you that's the challenge. The problem is, most people don't know much about marketing and how really maximize your promotional efforts. Fortunately, Cindy Bidar is now offering here entire library of marketing knowledge for 50% off.
Starting Thursday, Nov 22 and running until Monday, Nov 26, you can save 50% off using promo code BLACKFRIDAY. Here are a few of my favorites…
You can see all of Cindy's great resources here. Don't forget to use promo code BLACKFRIDAY!
Other Work-At-Home Resources I Recommend
There are a ton of great resources and tools I use to help me work from home. Amazon has a ton of great tools and books I highly recommend if you want to work at home. Check out my recommendations here.
Get first month free of Kindle Unlimited – I use this great resource to keep up-to-date and learn new work-at-home ideas and strategies. Download unlimited books each month (1o at a time), on things such as how to use Pinterest, get more traffic to your blog and more. I always search for highly niched topics than can help me tweak and improve my business.
Free Amazon Business Account – If you work at home, you need stuff for your home office. The Amazon Business account is the same Amazon you love, but for work. Get business pricing on many products, tax-exempt purchases for qualifying businesses, tons of products you need for your business, and more.
[click_to_tweet tweet="Score great deals and discounts on your holiday shopping, including tools and resources to work from home. #workathome #blackfriday " quote="Score great deals and discounts on your holiday shopping, including tools and resources to work from home. #workathome #blackfriday "]